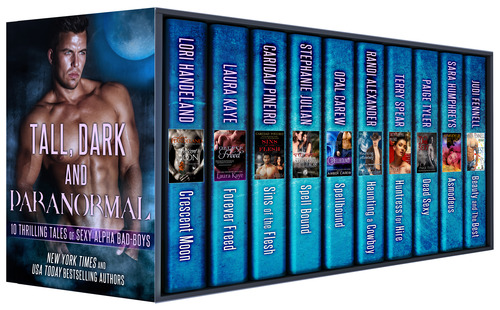 For only $0.99 (limited time pricing) you can purchase 10 scorching tales featuring the hottest bad-boy alpha heroes you can imagine!
The Tall, Dark and Paranormal bundle features Crescent Moon by Lori Handeland, Forever Freed by Laura Kaye, Sins of the Flesh by Caridad Pineiro, Spell Bound by Stephanie Julian, Spellbound by Opal Carew, Haunting a Cowboy by Randi Alexander, Huntress for Hire by Terry Spear, Dead Sexy by Paige Tyler, Asmodeus by Sara Humphreys and Beauty and the Best by Judi Fennell.
To celebrate this fantastic offer, all of the participating authors invite YOU to join us for a release day party. Join us on September 16th from 4-9 pm EST for prizes, chatting and pictures of those sexy alpha bad boys. Release Day Party Link.
Make sure to pre-order your copy from any of these online retailers:




I made this for a requested bear order for a small bear, now have one for a large bear, but was excited to learn a new "sewing" technique. Creating an eyelet-decorated vest for the Steampunk Bears. I have 7 orders for them, so have been working on the bears and the vests. So I got the eyelets, and the eyelet clamp to add them and read the directions and was clueless. Tried a number of things, and finally gave up and looked it up on Youtube for a video demonstration. Within seconds, I had my first eyelet-decorated vest.
I do Google searches all the time to figure out how to do something that's escaping me, so why not for something like that? And it worked! Love the Internet.
Anyway, there's her eyelet-decorated vest. She still needs her hat and this bear is sold. Working on 7 more. They're all a little different from one another and when I have them finished, I'll show them off.
In the meantime, I'm working hard to read through the rest of A Silver Wolf Christmas. I'm having trouble with saving. I save and go back and find that my edited work HASN'T saved. And I'm having to revise sections I know I changed. So not sure what's up with that.
And I have another bear to make that is a really unusual fur. A customer behind me at the fabric store asked me what I was going to do with that??? And I said, "Make a bear." I think it will be cute, but I never know for sure until I actually create the bear. So far, I have only had a couple of "ugly" bears by taking a risk. The fur was curly and the fabric too stretchy. So it wouldn't hold it's shape when stuffing. I say they were ugly, but they actually turned out cute, but I gave them away as freebies.
It turned COLD. 57 here today. And that's COLD. But I'm loving it. Though this is not a shorts day. And it's ONLY getting up to 78. Can you believe it? And we had rain last night! Love it!
It's going to get back up to the 90's, so glad to get some refreshing cool weather.
And that's it! Have a lovely, cool day and I'm off to revise more of A Silver Wolf Christmas and hope my revisions stick!
Only 99 cents! Limited time offer!
Preorders Available from Amazon Now:
http://www.amazon.com/Tall-Dark-Paranormal-Thrilling-Tales-ebook/dp/B00N55HGOA
Kobo:
http://store.kobobooks.com/en-US/ebook/tall-dark-and-paranormal
Smashwords:
https://www.smashwords.com/books/view/471539
ITunes:
https://itunes.apple.com/us/book/tall-dark-paranormal-10-thrilling/id915571414?mt=11
All Romance Ebooks:
https://www.allromanceebooks.com/product-talldarkandparanormal10thrillingtalesofsexyalphabadboys-1611082-166.html
Barnes and Noble:
http://www.barnesandnoble.com/w/tall-dark-and-paranormal-opal-carew/1120323237
Terry
"Giving new meaning to the term alpha male where fantasy is reality."
www.terryspear.com
Connect with Terry Spear:
Website:
www.terryspear.com
Goodreads:
https://www.goodreads.com/author/show/421434.Terry_Spear
Facebook:
https://www.facebook.com/TerrySpearParanormalRomantics
Twitter:
https://twitter.com/TerrySpear
Wilde & Woolly Bears
http://www.celticbears.com