Since I write all day long, I don't allow myself the luxury of reading during the day. A bathtub isn't my thing. It gets too cold too fast. I tend to read at night before I go to sleep, if I'm not editing a manuscript.
It's a nice way for me to quit thinking about my own stories in progress and just enjoy another author's world instead.

Or if I'm too tired of thinking about my stories and don't want to try to come up with the next part of the book.

I love to read.
I can go months and months without watching TV, but I can't neglect reading for that long.
When I was in the Army, I was working on an MBA and Advanced Personnel Officer Course. Later when I had children, I was working on my Command and General Staff College, and then teaching my children to read. So though I had been an avid reader when I was a kid, I'd set my reading aside to do college and advanced civilian schooling. And military schooling. Or reading to my kids.
Which was when I took up writing for them too. Children's stories.
Then I had a major upheaval in my life and I began to read about writing for adults. And that was it! I began reading for enjoyment again. Only this time romance.
So last night I was reading a Regency romance. Many of them are silly. But I like them. It takes me out of the genre I write in. My Medievals are very different. They don't have fancy balls where every lord had to pick up every beautiful damsel to have as his countess to provide an heir and a spare. And no matter how many times the same old plot is offered up, I enjoy them. They're just fun.
That's what reading is to me. Fun. Escapism. I see reviews where someone will say that this just can't be done.
Sure it can. It's fiction. It's fantasy. It's not real. And it's fun.
Speaking of fun...I'm back to working on Taming the Wild Highlander, where the wild Highlander is not the hero! :) Who says the guys get to have all the fun?
If you haven't had a chance to get A Howl for a Highlander, be sure and check it out. Damsel in Distress? Nope. (At least she never thinks so) Hero in Harm's Way? Could be. (He would say no to that) Bad Guys out to Get Them? Always. Wolves. Most Assuredly. Island Paradise? This Time. Is It Hot Enough for You? Might Be!
So if you haven't taken up with a Highland wolf in a while, or ever, you might just give him a try! :) And find you, too, want to join the pack!
Want to be kept up-to-date on Terry Spear's

NEW

releases? Just sign up here and you'll receive an update each time a new release comes out!
Subscribe to Terry Spear's New Releases Announcement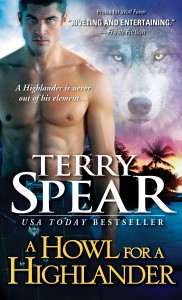 Genre:
Paranormal Romance
Series:
Werewolf Series, Book 10
Release Date:
February 5, 2013
Publisher:
Sourcebooks Casablanca
Formats Available:
Mass Market Paperback, Kindle, Nook
Purchasing Info:
Author's Website, Publisher, Amazon, BAM, IndieBound, Book Depository, Chapters/Indigo, Powell's, Goodreads, Kindle, Barnes & Noble, Nook, iTunes, Kobo, Books On Board, Discover New Love.
Terry
"Giving new meaning to the term alpha male where fantasy IS reality!"
www.terryspear.com