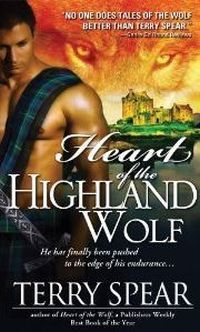 Heart of the Highland Wolf, June 2011
Wolf #7
by Terry Spear

Sourcebooks Casablanca
Featuring: Julia Wildthorn; Ian MacNeill
416 pages
ISBN: 1402245521
EAN: 9781402245527
Paperback

Reviewed by Diana Troldahl
"Terry Spear has penned a paranormal romance with all the elements needed for a decent escapist read: a misty yet modern Highland castle complete with secret tunnels and a ghost, an ancient enemy, plenty of hunky men in kilts fighting with broadswords (if only during the filming of the battle scenes), and a solid love story. HEART OF THE HIGHLAND WOLF is book seven in her Werewolf Series."
To Tempt the Wolf
Heart of the Wolf Book Three
By Terry Spear
http://www.terryspear.com/
"This novel was LOADED with tons of action and eye brow waggling scenes! The storyline was amazing and truly filled to the brim with action and alpha males galore. *sigh* What a great read!" Dee of Shameless Romance Reviews!
****
Nice morning wake up!! Okay, I'm working on The Highlander's Nymph of the Woods, and Heart of the Jaguar, and got the newsletter off, need to do 2 more blogs, pull weeds, get a cup of mandarin orange green tea, and read more on the 2 books I'm reading for the contests, and watch the National Geographic Jaguar video...and...
Hmm,...finish this blog so I can get to all the rest!!!
What about you? Have any plans for today? We're supposed to have bad storms tomorrow....so I've got to get everything I need to do on the Internet done today!!!
Have a super Saturday, and enjoy the next segment of Allure of the Wolf!
Terry
"Giving new meaning to the term alpha male."
www.terryspear.com